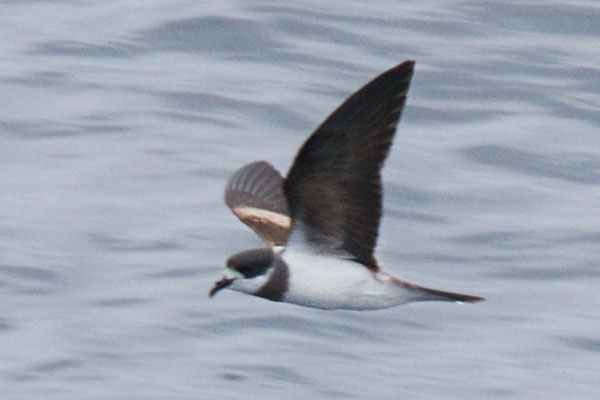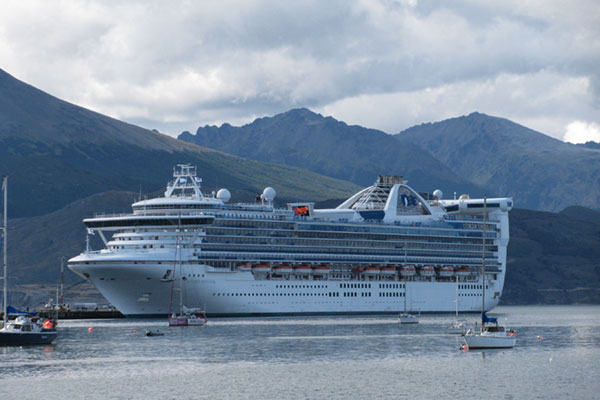 Having seen many of the world's seabirds there was one species we had always wanted to see, which is endemic to the Humboldt Current, that being Hornby's Storm-petrel. Unfortunately pelagic trips in that part of the world are somewhat unreliable, so other means sprang to mind. A few years ago Wildwings organised a trip up the western seaboard of South America. However, the uptake was poor so it wasn't repeated. It turned out later that the vessel involved had been a commercial cruise-ship, albeit a small, upmarket one, and possibly some birders were put off by that .
Soon after I came across a blog (http://www.surfbirds.com/community-blogs/amigo) which is written by naval personnel, much of it from the decks of naval vessels, and it seems that seabirds may not be as wary of larger vessels as the field guides would have us believe. Thus, when our Silver Wedding anniversary came around we decided on a cruise with a wildlife flavour. At least if we saw little we would have the pleasure of the cruising holiday. In the event it was a great success, as the following will show. Obviously our first decision was where to go. In part this was already decided, but relatively few cruises go near the Humboldt Current and unfortunately those that do start or finish in Valparaiso, Chile. This would mean missing some of the more southerly species, and also lessen the chances of whales and Albatrosses, so we ended up doing two back-to-back cruises. One was from Buenos Aires to Valparaiso, via the Malvinas/Falklands where we had never visited, and then Valparaiso to Los Angeles. Our particular route "cut across" from Peru to Central America, thus missing Ecuador and Colombia. In terms of seabirds this wasn't a big problem, but it would have been preferable, unfortunately we couldn't find a cruise which did that plus Cape Horn and the Falklands/Malvinas. Another potential problem was the timing, since we could find little information relevant to March, but it was when the cruise sailed, at least we would be breaking new ground in a way.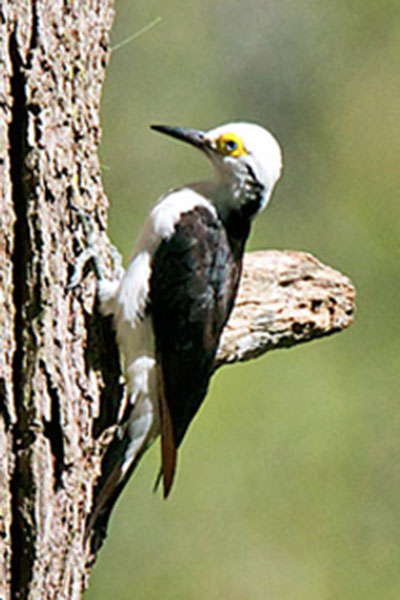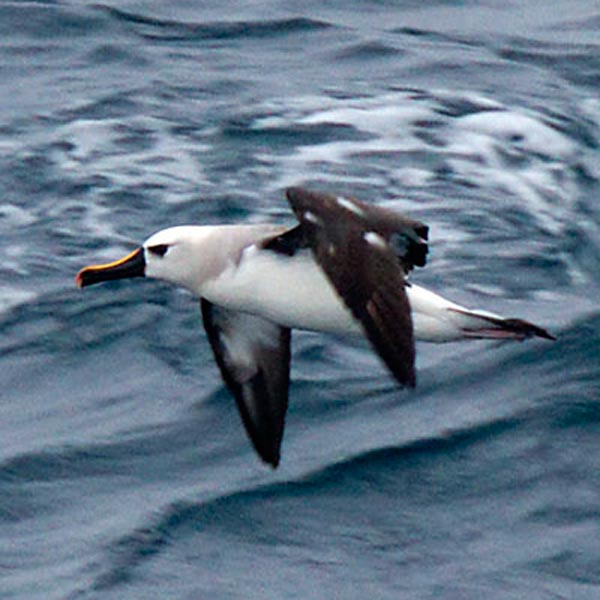 So at the end of February we arrived in Buenos Aires, the day before our huge cruise liner was due to sail. A quick look at Costanera reserve was in order, but sadly "progress" has reared it's ugly head in the ten years since our previous visit. Most of the same species are still there, but the trails have been widened, the marsh area is much more vegetated and difficult to view. Whilst this is obviously better for birds the trails are now in use to a large extent by joggers and cyclists, so many birds are now staying hidden that used to be easily viewed. However, it's still worth a visit if you've never been before.The ship sailed that evening, not knowing quite what to expect we were a little disappointed to find the River Plate empty of birds. The following morning found us in Montevideo, where we had arranged to go birding with an Australian guy contacted through www.birdingpals.com. This was a very enjoyable day, not huge numbers of birds, and no ticks as the avifauna of the region is similar to Argentina on the other side of the Plate Estuary, but we had good views of a flock of White Woodpeckers among other things. As we left Montevideo there were still a few hours of daylight remaining, so we did a bit of seawatching from our balcony. As this was really still estuary-watching we weren't surprised to record only Kelp and Brown-hooded Gulls, Royal and Cayenne Terns. The following day was our first day at sea, as we sailed south towards Peninsular Valdez. Not really sure what to expect it took me some time to identify our first Albatrosses, as I hadn't considered dispersal from Tristan da Cunha, but the majority were Atlantic Yellow-nosed, with a few Black-browed thrown in for good measure. Obviously large cruise liners were good for watching seabirds, as whilst never really close, several birds were near enough to get decent photos. Other birds seen were Great Shearwaters, Sooty Shearwaters, and our only Manx Shearwaters of the trip. Our first cetaceans came in the shape of Atlantic White-sided Dolphins. Not bad for our first day at sea proper, we looked forward to the next four and a half weeks with high hopes.
The next morning saw us docked at Puerto Madryn, "gateway" to Peninsular Valdes. Our main priority here was the endemic White-headed or Chubut Steamer-duck. Being flightless they only occur in a fairly restricted area. Not wishing to trust to luck on a ship's excursion, we hired a local guide. It turned out that the most reliable site for our target was at the Magellanic Penguin colony at Punta Tombes, which is a tourist attraction to where several coach loads were going from the ship. However, we beat them to it and had the place almost to ourselves for about an hour. This enabled good views of at least two pairs of the ducks, Rock Cormorant, Patagonian Mockingbird, Lesser Rhea and several Guanacos.We also stopped at a couple of locations on the return journey, which of course the coaches didn't, and saw several widespread species such as Chilean Flamingo, White-tufted and Silvery Grebes, Lake Duck, and Coscoroba Swan.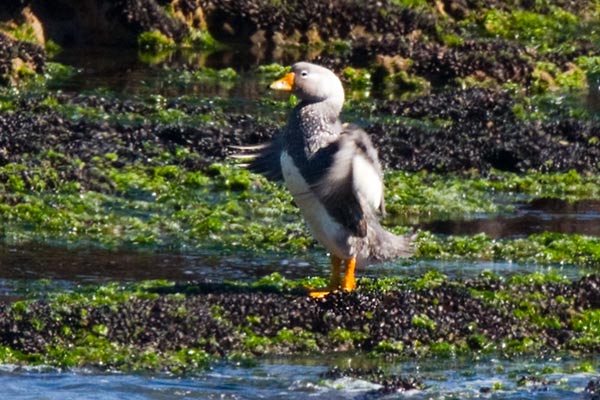 The next day was a day at sea sailing toward the Falkland Islands, we expected an increase in seabirds and this was in fact the case. As is usual for pelagic species (indeed many species), sightings were more frequent in the early morning and evening, so our days at sea were largely governed by this pattern. An early morning watch from our balcony was the norm., and breakfast in our cabins unless it proved to be quiet. We had chosen a cabin as close as possible to the bow, this proved to be perfect as we could see anything passing in front, and many birds came down the side of the ship. Whilst height is an asset, as a photographer I prefer to be closer to the water, as the few distant sightings missed are outweighed by better photo opportunities. Our cabin was about halfway up, just above the promenade deck. This had the added advantage of being able to access the bow and stern areas quite quickly, if activity seemed more in these areas.
A good example of this was that at times the ship, usually later in the day, would disturb roosting flocks from the water, and some species, especially Storm-petrels, would "mill around" for a while, presumably searching for food likewise disturbed by the bow wave. Strangely, we had few birds following at the stern, and most didn't approach closely, I can only imagine that they have learnt that these big white hulks don't throw food overboard, whereas fishing vessels and smaller ships such as expedition vessels often do.
Birds seen as we approached the Falklands/Malvinas birds gradually increased in numbers. Albatrosses were represented by three Northern Royals, several Southern Royals and about 250 Black-browed, the islands holding some important breeding stations. The commonest petrels were White-chinned Petrels, but Atlantic Petrels occurred in some numbers, as did the ugly Southern Giant Petrels. Two Soft-plumaged Petrels were rather distant, and Shearwaters were Sooty and Great, although the latter in much smaller numbers than our first day at sea. Disappointingly, only a few Stormies were seen, all being Wilson's Storm-petrels. Around the islands the commonest birds were Blue-eyed Shags.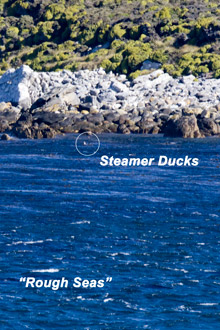 Next day saw us trying to get as close as possible to the front of the queue for the tenders, as these cruise liners give priority to those who have booked tours with them. We managed to get a place on the first boat for ordinary mortals, which was in the water, when the astounding news came that no landings were to be made! Landings can never be relied on to happen due to weather and sea conditions, but in our opinion the captain was over-reacting. Rodney Russ of Heritage Expeditions would have just deemed it "a little bit splashy" but put everyone ashore in Zodiacs. We can appreciate that passenger safety is the captain's main concern, and indeed for many passengers it may have been hazardous, but then so would getting out of bed! We feel strongly that those that wished should have been allowed to sign a disclaimer and go ashore. We later learnt from a crew member that this particular captain had never made a landing there in six or more cruises, although I have to state this was merely hearsay.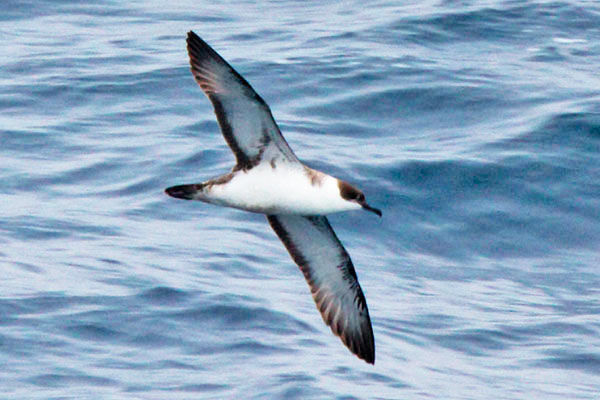 It does illustrate one of the major drawbacks of cruise-ship birding, but as we were there primarily for seabirds it was no real problem for us. The one species we did really want to see was Falklands Steamer-duck, but we weren't to be denied as we set up a telescope on our balcony and managed to find three pairs, unfortunately too far away to photograph. As the ship left the islands we sailed along the coastline and by the same means saw several penguin colonies, which we judged to be King and Gentoo Penguins, emphasising what we were missing by being unable to land. Good seawatching until dusk produced more of everything seen the previous day, including four Soft-plumaged Petrels, but we had left behind Atlantic Petrels. White-chinned were down to one or two, but many more were evident later in the voyage, whereas we saw our last Great Shearwater the following day. We logged three Brown Skuas, presumably of the race hamiltoni which breeds on the islands. One seabird, which is always difficult, was new for the trip, this being Grey-backed Storm-petrel. Two of these were the only ones we saw, sadly they eluded the camera.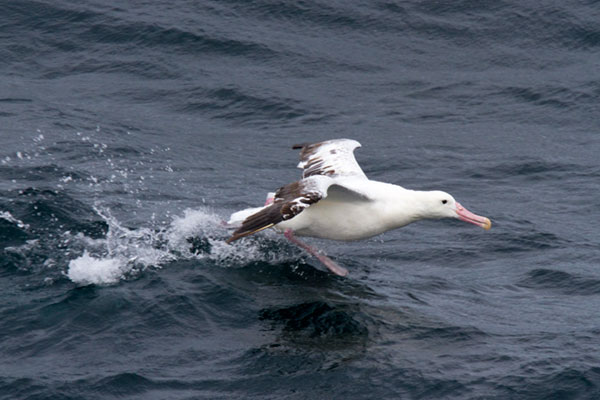 A surprisingly short voyage the next day took us to the Cape Horn area, where the ship was due to undertake "scenic cruising". This entailed crossing a seamount, but in all honesty the expected increased numbers of birds did not materialise. Nevertheless still a good days seawatching with lots of Albatrosses in evidence. Most were Black-browed, especially immatures, but amongst them we picked out at least two juvenile Grey-headed Albatrosses which came close enough to photograph. Although we have seen them before, including adults, they never seem very numerous, whether this is due to population size or an aversion to ships is unclear. The sixth Albatross species for the trip came in the shape of a Wandering Albatross, this was the first positively identified as distant birds often have to go down as Wanderer/Royal. Our only Pintado Petrels, surprisingly, were seen today as six to ten loosely followed the ship for several hours. Whilst the by-now familiar species were around, I would have expected to see some Prions or Blue Petrels, but this was not to be the case. The Cape Horn area itself, whilst undoubtedly very scenic, yielded little new, so the ship proceeded to Ushuaia without further excitement.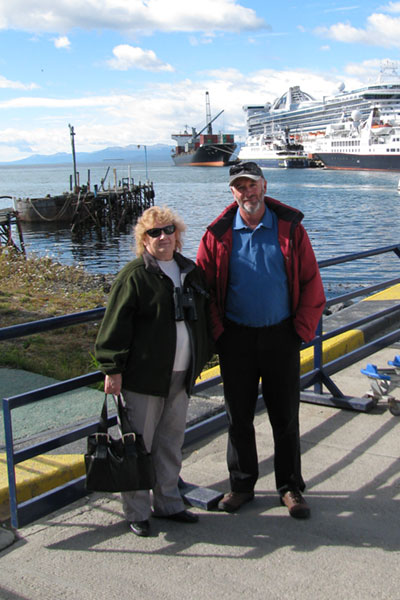 The following day was spent in port at Ushuaia. The ship arranged several excursions (including one to the Antarctic Peninsular by air, at vast expense, which failed to happen due to weather conditions), but as we had been there twice before we decided to chill out and just have a gentle stroll around the area. Should you be interested in that part of the world refer to the trip report of the Atlantic Odyssey, suffice to say a tour in the National Park, preferably with a knowledgeable local company, will get several species which are difficult elsewhere. Our brief stroll produced Dolphin Gulls, Upland and Kelp Geese, Southern Caracara, and Southern Lapwing among others. Jeremy Clarkson notwithstanding, the locals were very friendly, other sightings of interest included an old Argentine Air Force Dakota, an ex-London Transport bus on a tourist sightseeing tour, and Will Wagstaff! Will had left the Scillies and was acting as wildlife guru on board a cruise ship far more exclusive than ours, although he did mention not having much to do! The only downside was that, as the town has developed its tourist industry and obviously expanded, so a number of species have disappeared from the immediate area, but there is still plenty of habitat in the surrounding countryside. The ship departed still in daylight, so we had time for some seawatching, and this produced our only Southern Fulmars of the trip, albeit at dusk.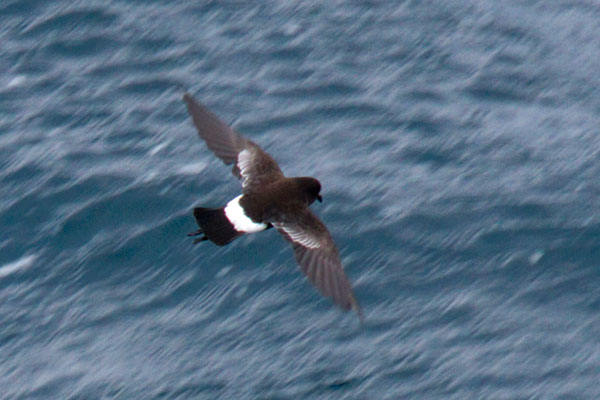 The following morning saw the ship anchored at Punta Arenas, Chile, where it remained all day. We undertook one of the ship's excursions as we had been there before. This turned out to be disappointing, although we passed through much habitat where birds undoubtedly occured, we saw little except a few Black-faced Ibis. Seawatching was obviously limited due to the few remaining daylight hours, another downside to cruising, a few Albatrosses and Giant Petrels being the main things of note. The following two days however, were very different, being spent mainly at sea with just a brief visit to view glaciers on the first day, in itself curtailed due to strong headwinds. We did discover one other problem to cruising, if it got windy they closed access to the promenade decks! This wasn't too much of a problem as we had a balcony, but is a factor to bear in mind if you're booking- don't go for an inside cabin! The birds, however, are more apparent in windy conditions, and as well as most species seen previously, we logged two Salvin's and a Buller's Albatross, plus five more Wanderers. That wasn't all, three or more Stejneger's Petrels, eight Slender-billed Prions, two Westland Petrels and ten Magellanic Diving-petrels were new for the trip. In addition we saw the first of many Pink-footed Shearwaters, and about fifty of the chilensis race of Wilson's Storm-petrel, some of which were quite photogenic.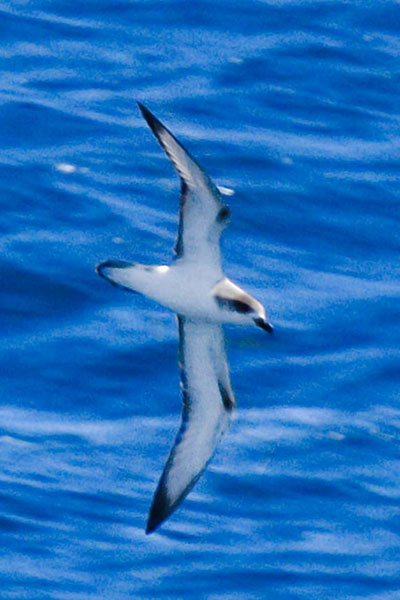 Next port of call was Puerto Montt. Arriving slightly later than normal gave us the opportunity for a bit of seawatching, but apart from a few more Pink-footed Shearwaters we saw little. Neotropic Cormorants,surprisingly, were new for the trip but hardly got the adrenaline going. The large bay surrounding the port is the area for the newly described Pincoya Storm-petrel, so we were on the lookout for stormies. None on the way in, would we be lucky leaving the area? After a largely unproductive day on another excursion, apart from a chance sighting of a White-throated Hawk flying over the bus, we had a few hours before darkness fell. In the end it was a bit of an anticlimax, just two distant birds, the only time I had needed to use the telescope apart from the Falkland Steamer-ducks. So unfortunately no photos. Strangely only a few other stormies were seen, often too distant to identify. However, I suspect that these birds may range further than present evidence suggests, and that some of the birds seen the previous day may not have been Wilson's after all. There was a little light left as we got out into the open ocean once more, we recorded our only Shy Albatross of the trip, plus the first of many Peruvian Pelicans, our first Pomarine Skuas and a few Franklin's Gulls.The next day was Friday 13th, maybe unlucky for some, but certainly not for us! Entering the main part of the Humboldt Current, numbers and variety of pelagic species began to increase. Early in the morning we saw a Sperm Whale deep-diving about 50 metres from the ship, a good omen! Our bird tally for the day was as follows:- 2 Northern Royal Albatross, 3 Wanderers, 6 Salvin's and 4 Black-browed Albatross; Southern Giant Petrel, Slender-billed Prion (6), 50 White-chinned Petrels, 30 Pink-footed and 10 Sooty Shearwaters, Brown, Chilean and Pomarine Skuas. Best of all, and part of the reason for visiting this fabulous area, were at least 50 Juan Fernandez Petrels, two more Stejneger's and our first De Filippe's Petrel. Pterodroma alley! I must add that all the numbers above are conservative estimates, since we were concentrating on reasonably close birds, trying to get photos.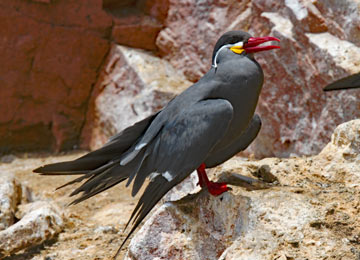 The following day was "changeover" day as it was the end of one cruise and start of another. As we had elected to do two cruises back-to-back this didn't affect us, but we decided not to leave the ship but just relax, so spent the day in Valparaiso harbour. Obviously all the harbour visits are opportunities for land birding, if you haven't been to an area before I would advise looking for a local guide, as very few ship's excursions are good for birds. The problem with Chile and Peru is that the best areas are well away from the coast, and reliable guides aren't easy to come by, so as we had been to the areas before we often didn't bother, as the main targets for the trip were seabirds. Nevertheless the day produced a few new birds, either in the harbour or the two short seawatching sessions before and after docking. These included a distant Variable Hawk, Red-legged and Guanay Cormorants our first Peruvian Boobies and the first of two Chatham Albatrosses. Also of note were a further twenty Juan Fernandez Petrels. A short voyage overnight took us to our next port of call, La Serena, where I took a short walk along the bay to photograph Grey Gulls, Blackish Oystercatcher and a couple of Elegant Terns. Meanwhile Ann was enjoying the Inca Terns flying around the ship, the first we had seen. The seawatching sessions produced our last Albatrosses for a while, a few more De Filippe's Petrels and six Peruvian Diving Petrels returning to roost, a fact enabling me to get a few record shots.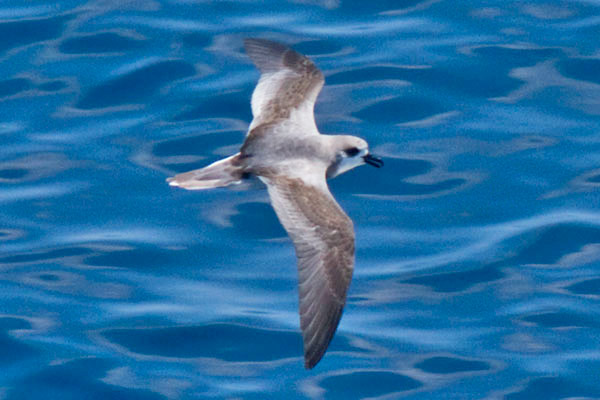 We now had two full days at sea whilst the ship proceeded to Pisco, on the Paracas Peninsular, and the Humboldt Current really came into its own. No Albatrosses, but De Filippe's Petrels were in view nearly all the time, many close, and still a few Juan Fernandez. Stejneger's were suspected but not positively identified due to distance, whereas two Cook's Petrels were identified from photographs. Three Kermadec Petrels were seen on the first day, one in particular close enough to get some decent photos, and both days produced Galapagos Petrels, sadly not really close enough. Procellariformes were still much in evidence, Pink-footed and Sooty Shearwaters were joined, for the first morning only, by Buller's Shearwaters, and a small flock of Westland Petrels joined the White-chinned. Being at sea we saw no gulls in daylight, but a few Elegant and Cabot's Terns, (American Sandwich) a dozen Pomarine and one Arctic Skua. However, standing on deck in the evening of the second day, Ann bought to my attention some distant white birds reflected in the ship's lights. As I put my bins up I suddenly remembered- Swallow-tailed Gulls are nocturnal feeders! As I rushed back to the cabin for my camera (which turned out to be a pointless exercise) the birds gradually came closer, apparently feeding on squid disturbed by the ship's bow-wave, and we watched up to a dozen over the course of the next hour. This show was repeated a couple of nights later, but at no time did we see any in daylight.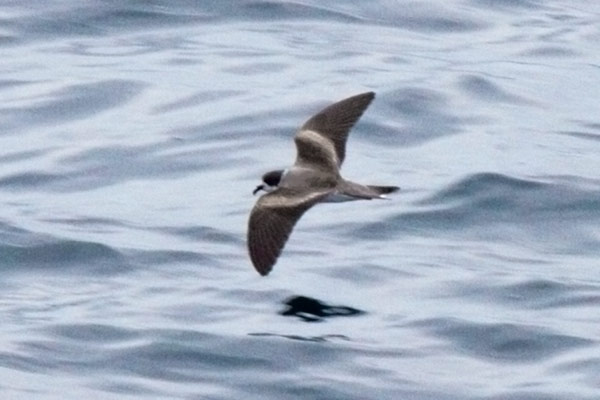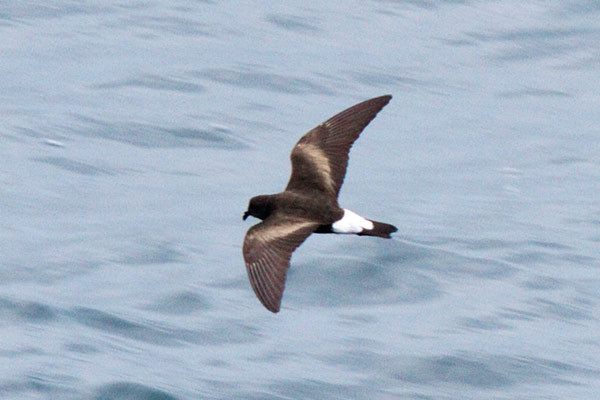 However, our personal reason for visiting this area was Storm-petrels, of which numbers had not been great so far. This was all to change. The first day produced only one species, but close enough to photograph, that being Markham's Storm-petrel. As with most of the stormies in this region, little is known about their breeding sites or ranges, but judging by the numbers involved if a ship passes through the right area you can't fail to score! We were to see these fantastic little birds almost every day until the end of the trip, sometimes in large flocks. I didn't bother recording numbers, I was too busy with the camera, but suffice to say our tally for the whole trip was thirteen species, only three or four of which were in single figures. I awoke early on our second day at sea, several Markham's were in evidence,soon joined by one or two White-faced Storm-petrels. Some, with their distinctive feeding action, long legs and "bouncing" off the surface, were quite close, and I was enjoying photographing them when something didn't look quite right. I quickly looked through my shots on the back of the camera and-yes!! Hornby's Storm-petrel was finally added to my list! I woke Ann at this point, and it wasn't long before another appeared (thankfully). They were in view off and on all day, had I counted them it would have been well in the hundreds. This is what others have reported, but similarly only on one or two days. Indeed, our next full day at sea produced about ten, and after that we didn't see another.The fourth common species that day, providing probably the best photo opportunities, was Wedge-rumped Storm-petrel, presumably the Peruvian race rather than the Galapagos one, although they were more frequent later, so both could have been present. However, they weren't all. Whilst watching the aforementioned Swallow-tailed Gulls, an Elliot's Storm-petrels had flown close to the ship. Apparently this species is known to be attracted to ship's lights, probably feeding nocturnally, although we did see a few more later in daylight, and I actually managed to photograph one, albeit distantly. We also had a disorientated Markham's land on board, although when I tried to release it the bird flew round in a circle and straight back onto the ship. Obviously this is a not uncommon occurence, especially in bad weather, but a member of the crew "patrols" in the early hours and she assured us that very few birds are injured and they usually make their own way off after a rest. As this was about 2am very few other people were about so they are usually undisturbed, and indeed there was no sign soon after dawn. So ended one of our best periods of seawatching ever, probably the climax of the voyage. Oh, I nearly forgot the three Red-billed Tropicbirds on the first day!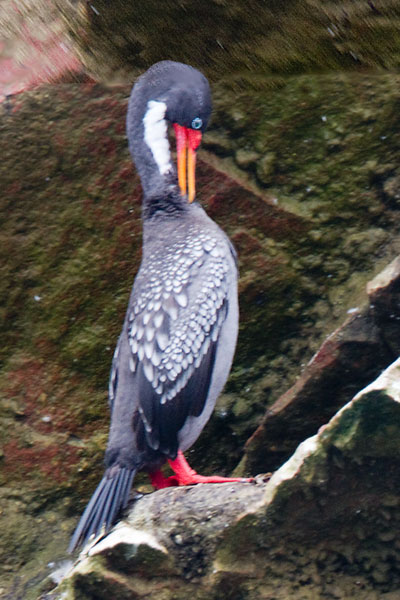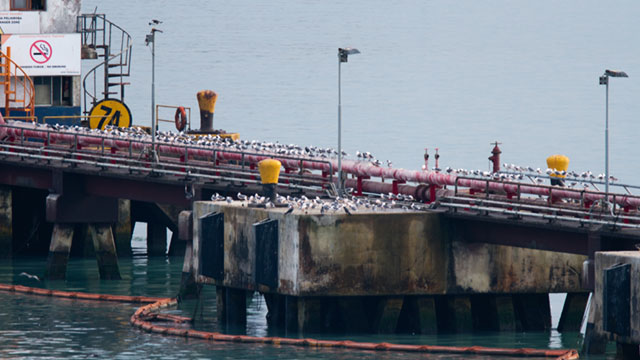 The Paracas Peninsular is world famous for its "guano birds", and as we approached our next port, Pisco, it was easy to see why. The ship was well inshore as the sun rose, and approaching the harbour were large numbers of fishing vessels of varying shapes and sizes, literally festooned with thousands of seabirds! Enter the harbour, and the walls, jetties, even the mooring rope of the cruise ship itself were similarly covered. The word "thousands" is no exaggeration, including our later boat trip we must have seen over a thousand Inca Terns alone. We get excited to see a vagrant Franklin's Gull in Britain, here's obviously where the rest of the world's population winter, although the tally of about three hundred was far exceeded the following two days in Callao. Before embarking I thought we would probably see Band-tailed Gulls,which were a tick for Ann. No worries, five hundred was a conservative estimate. Add to this the guano birds- Peruvian Pelican and Booby, Guanay and Neotropic Cormorants, all in their hundreds, and the term "spectacle" is perhaps too tame. Of course, we didn't spend all day in the harbour, but joined a boat trip to the Ballestas Islands, where many species breed and guano is collected For convenience we went on a ship's excursion, since you end up on the same boat. If cost is a consideration you can book as an individual, but then have the problem of getting to the jetty, which is a fair way from the main harbour.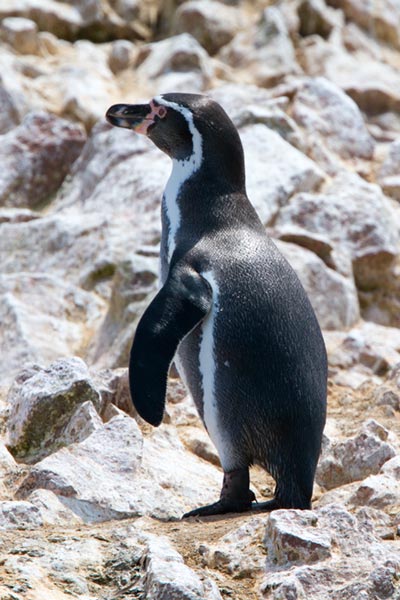 The bird we really wanted to see on the islands was Humboldt Penguin.These are endangered and becoming more and more difficult to see in the wild, although it seems most zoos hold them (helps their conservation status). Our well-organised and informative boat trip duly obliged, and we had good views, although saw no more than about twenty. The rest of the trip was just sitting back and enjoying all those birds, Inca Terns no more than twenty yards away, Red-legged Cormorants, Band-tailed and Grey Gulls, Guanay Cormorants, Peruvian Boobies......... There was another new bird, a tick for both of us this time, in the shape of Peruvian Seaside Cinclodes,but forgive me if I don't remember the short view of an all-brown bird very well. On returning to the jetty I realised the gulls which I had dismissed as Patagonian Black-headed on the way out were in fact Grey-headed Gulls, a difficult bird to see in South America. Useful though, as given the fact that African and South American populations are largely isolated from each other, they could attract the attention of a taxonomist looking to do some research. A few waders were also on the beach, a Hudsonian Whimbrel and a few Turnstones.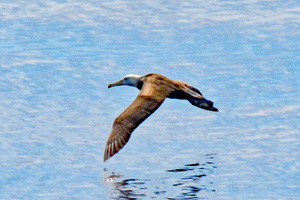 Leaving the Paracas Peninsular behind we sailed for Callao, but saw nothing new that evening, just more of the same. The evening's walk on the promenade deck produced more Swallow-tailed Gulls and another three Elliot's Storm-petrels. The next two days were spent in Callao harbour, where the ship languished, in order for those wealthy enough, to visit Machu Pichu at vast expense. Not that I have anything against visiting Machu Pichu, but you could probably do it from home for much the same cost! We debated whether to do any land birding, but had heard so many horror stories about people getting unreliable guides and nearly getting stranded we thought we would prefer to do a more comprehensive Peru trip later, so stayed on board. As the dock area has the reputation of being one of the most dangerous places on earth the ship ran free shuttle buses to a shopping mall on the outskirts of Lima. I went on one just for a look around, and saw a juvenile Harris Hawk in a tree at the bus station! The only other birds of interest in the two days were West Peruvian Doves around the dock, and an Aplomado Falcon which flew through. We now looked forward to three days at sea, which in truth was a bit of an anti-climax. Many cruises hug the coast and visit Ecuador and Colombia, but you can't have everything, and ours "cut across" directly to Costa Rica. Warmer waters meant new species, but far fewer birds. We had seen our last pterodromae,but large flocks of storm-petrels were still in evidence, sadly often too distant to identify. The only new one, a flock of about fifty, was Least Storm-petrel, at dusk on the first day; Wedge-rumped, and our last Markhams were the other main sightings. Pink-footed and Sooty Shearwaters were still in evidence, as were White-chinned Petrels. A new procellariforme came in the shape of a Parkinson's Petrel, although we suspect we may have overlooked them previously. About twenty Blue-footed Boobies, and a distant Sabine's Gull were new for the trip, but the undoubted highlight was up to seven Waved or Galapagos Albatrosses, sadly not very close. Obviously only found in this part of the world, breeding on Hood Island and Isla de la Plata, they seem far more wary of ships than their more southern cousins.The following two days, as we were in much deeper water, produced very little apart from a few Nazca and Brown Boobies, a solitary Band-rumped Storm-petrel, Green Turtles and several pods of Dolphins, mainly Long-beaked Common. Although we still saw many species, we were now well past the area we had wanted to visit, the Humboldt Current, and this had more than lived up to expectations. We had seen our last petrels, and numbers of everything were well down, but a few surprises were still in store as we docked in Puntarenas, Costa Rica.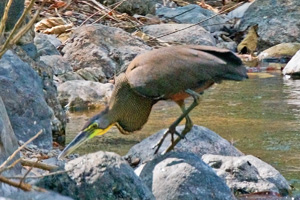 Costa Rica, as many will know, is a very friendly and pro-wildlife country. A number of ship's excursions looked as if they might actually enable us to see some wildlife, and so it proved. Cruise ships dock near the Tarcoles estuary, which is within the National Park, so we opted for a trip which visited several venues, and hoped for the best. First stop was a bridge, apparently popular with tourists, under which loaf endangered American Crocodiles. Also under the bridge were Northern Jacanas, a new bird for both of us and unexpected, although they are common enough in Central America. The rest of the day we visited some hanging bridges in the rainforest which were useless for birding as they were in constant motion, although standing at one end we did find a Long-tailed Manakin, followed by private gardens which proved quite productive, and a sort of visitor centre beside a river which was overun with Black Iguanas. This last place proved to be the best, as a Bare-throated Tiger-heron flew in (completing our "set"of Tiger-herons), and a Black-mandibled Toucan put in a brief appearence. Our driver/guide was brilliant, and stopped several times during the day for interesting sightings, including White-fronted Capuchins, Hoffman's Woodpecker and Fiery-billed Aracari. We saw over fifty species of bird during the day, other highlights included Cherrie's Tanager, Scarlet Macaw, King Vulture and Northern Bentbill. On the non-birding front we saw White-nosed Coati and two species of Basilisk (Jesus Christ Lizards), but the hoped-for sloth didn't materialise. (Apparently another tour, visiting a Macaw sanctuary, saw a "pet" one which roams the grounds.)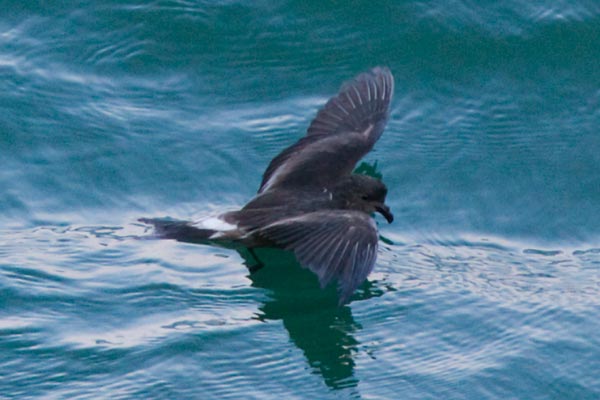 We had no opportunities for seabirding over this and the next day, but a Bridled Tern appeared over the coast from a high vantage point, and Magnificent Frigatebirds and Laughing Gulls plus Royal and Cabot's Terns were around the harbours, whilst the pelicans were now Brown Pelicans. When we returned to the ship in Puntarenas, a storm-petrel was on the water just beneath our balcony. Whilst impossible to positively identify we think it may have been Ainley's Storm-petrel, mooted as a split from the Leach's complex. Our next port of call could not have been more different. Our guide from Costa Rica had warned us, as apparently he had investigated Nicaragua from a tourist point of view, that there was little wildlife. And so it turned out to be. I imagine that many years of political wranglings and conflict allowed much of the natural habitat to be destroyed. Obviously there will be areas where wildlife remains, but we saw very little, the highlight being Mantled Howler Monkeys. The rest of our cruise was somewhat of an anti-climax compared to the Humboldt Current, as the ship sailed from Nicaragua to Cabo St Lucas, in Baja California, and thence to our final destination, Los Angeles. The potential for seabirds should have been high, and we did in fact see several new birds, but most were fairly distant and we went long periods without seeing anything. Perhaps our earlier adventures spoilt us, to be fair the last week taken alone would still have been good by many people's standards. The first day was probably the best, with a flock of up to forty Masked Boobies around the vessel for a couple of hours, three, (at least), Galapagos Shearwaters, ten Black-vented Shearwaters, and our only Red-footed Boobies of the trip. Markham's Storm-petrels were replaced by Black Storm-petrels, although we probably saw in excess of a hundred they don't seem to like ships much, so no good photos, although one did land on deck at night. We also enjoyed a distant flock of Least Storm-petrels.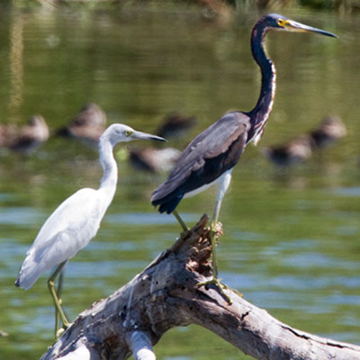 Our last landing was on the morning of the fourth day, at Cabo St Lucas. We had been there before at the end of a whale-watching trip, but had missed the endangered Belding's Yellowthroat, so we had arranged a few hours with a private guide, arranged through www.birdingloscabos.com. We duly saw a couple of Yellowthroats, although in the limited time available views were not great, but other landbirds included Gila Woodpecker and Gilded Flicker, Tricoloured and Great Blue Herons, Phainopepla, the endemic Grey Thrasher and Cooper's Hawk. Despite trying several sites the endemic Xantu's Hummingbird eluded us, although we had seen them on our previous Baja trip.Our last afternoon and day at sea were rather boring, I suspect we passed through the most productive waters during darkness. Early morning of our last day produced a few stormies, including Ashy Storm-petrel and Band-rumped, but things then went completely dead. That is until mid afternoon, when laying on our bed watching rubbish television, I happened to glance out of the door to the balcony. A nanosecond later we were on that balcony, watching four Black-footed Albatrosses taking off from the surface. Obviously we then stayed there until dusk, and were rewarded by a second sting in the tail in the shape of a (distant) Laysan Albatross. These two species illustrate perfectly the element of luck needed on any cruise looking for pelagic species, as we saw neither on our earlier whale-watching trip to Baja, although a Black-footed was recorded we were in our cabin on that occasion, and the tannoy seemed to only work for cetaceans. Both birds were ticks for Ann, bringing her Albatross total to just one less than mine. (Good excuse for another trip). Apart from a few common species these were the last birds of our extremely successful cruise.

Although not our first "normal" cruise, certainly the best, and dispelling many of the conventional thoughts regarding trying to bird from large vessels. Although not everything was observed closely, many unexpected species, such as Hornby's Storm-petrel and Mas-a-tierra Petrel, were not put off at all by such a large ship. Our final tally included thirteen species of Albatross and over fifty tubenoses in total. Although there are downsides to such a cruise, if you want a big seabird list it's well worth looking into, especially if the ship sails the Humboldt Current.